In this Level 1 Raw Vegan Culinary Arts Course you will learn to prepare and serve exquisite meals from the comfort of your own home. Whether you want to advance in your professional culinary career or learn how to create healthy, healing gourmet dishes for your family and friends, this program will open your mind to a new and exciting way to prepare food. You will cover beginner techniques to create truly entertaining dishes, along with the science of flavor balancing and recipe development.
You can complete the training on your own time in as little as 3 months or at a pace that's right for you. Once you have completed the course and certification criteria, you will obtain a Professional Certification and be eligible to move onto our Advanced Vegan Chef Certification Course. (See details below).
Become immersed in a fun and interactive culinary arts experience that is based on 20+ years of healing experience and developing allergy free, low glycemic recipes! This 100% online course is designed to help you build a new career, while simultaneously helping you achieve the healthy body you have always dreamed of.
---
In this course you will learn:
The skills you need to succeed as a chef or teacher in the whole food wellness industry
How to navigate your kitchen like a pro - from set up to everyday efficiency
How to nourish and heal your body with high energy super foods
Recipes which fit into all styles of eating: raw, vegan, paleo, and low glycemic/carb
All recipes have low glycemic sweetener options for the healing home/professional chef
All recipes are free from AGAVE, SOY, CASHEWS, GLUTEN
---
Level 1 Raw Chef Certification Course Synopsis
ESSENTIAL CULINARY LESSONS
These fundamental lessons are crucial for obtaining knowledge needed to become the best plant-based chef on the planet.

Culinary Arts Knife skills
Dehydration 101 Techniques
Soaking and Sprouting Nuts and Seeds
Stocking your plant-based pantr
All about thickeners and which ones are best
How to purchase and open coconuts
DIPS AND SPREADS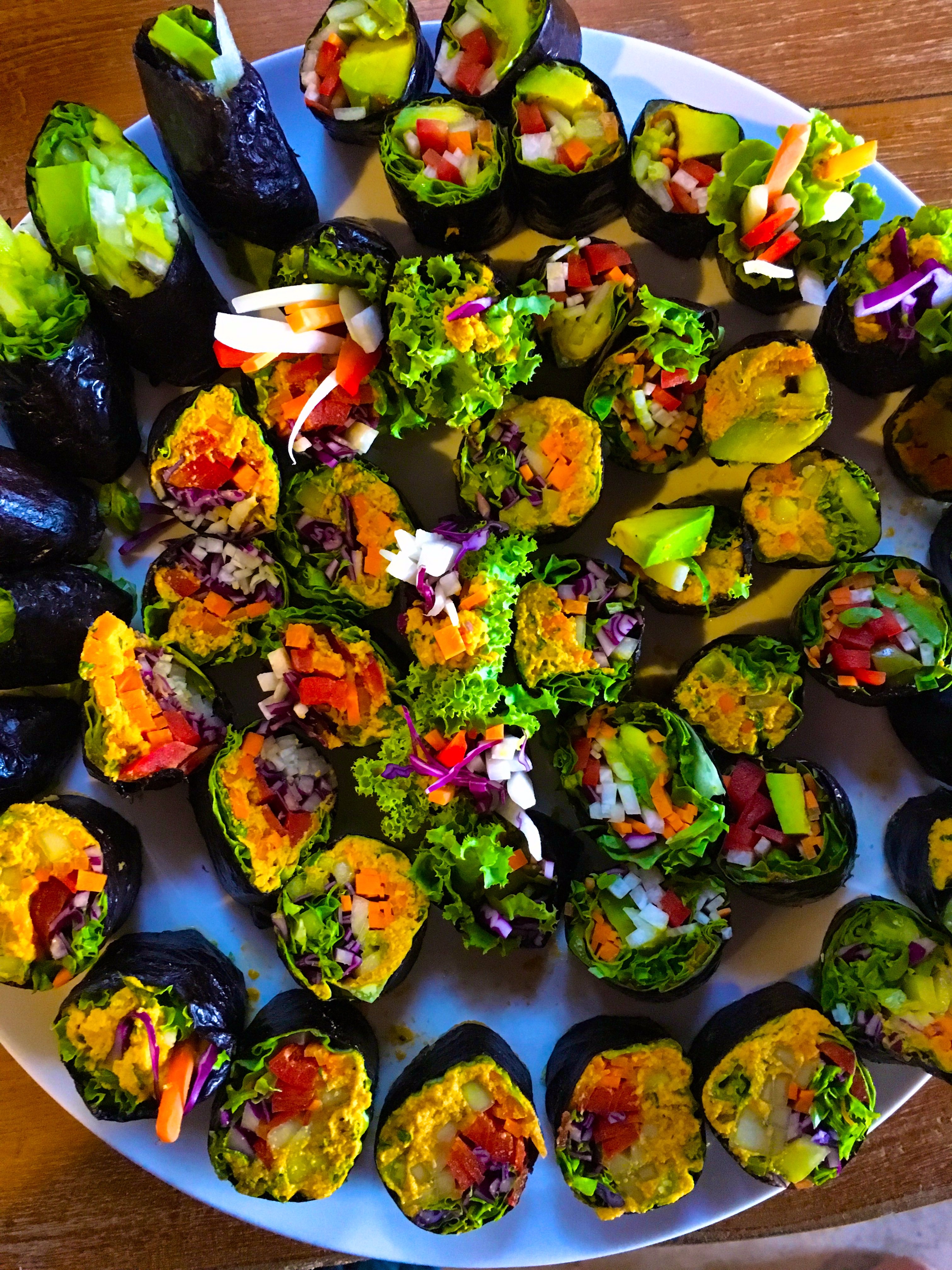 Mock Salmon Mousse
Sunflower Onion Dip
Spicy Miso Paste for your rolls
Sushi Rolling
STUDENT REVIEW - Mock Salmon Mousse -"I would have NEVER believed it until now!! It even TASTES like salmon. Still can't get over how fluffy and mousse-like the Salmon Pate turned out. Thoroughly impressed!! Can't wait to put the left overs on seaweed wraps and dehydrate them for Scooby Snacks!!"
LIQUIDS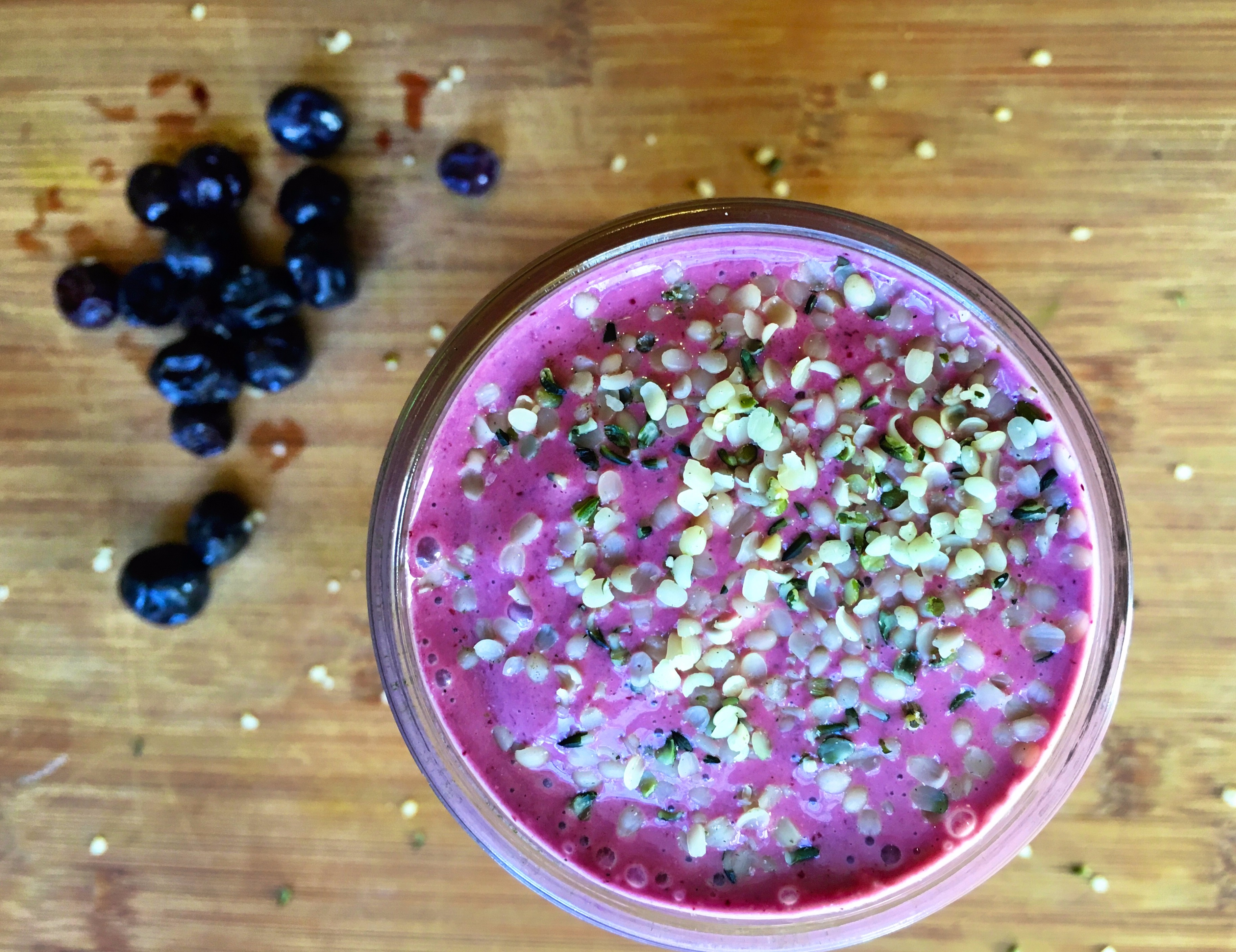 Juicing Recipes and Demos and the Best Juicers
Nut and Seed Milks and Creamers
Super Food Smoothies
Satisfying Creamy Soups
STUDENT REVIEW - Creamy Cilantro Soup -"It was incredible! I loved it, I loved the flavour and texture (I added very little water) and I was wishing I had some raw crackers to have with it, next time. I would definitely serve this soup at a dinner party, 5 stars from me!"

SALADS AND DRESSINGS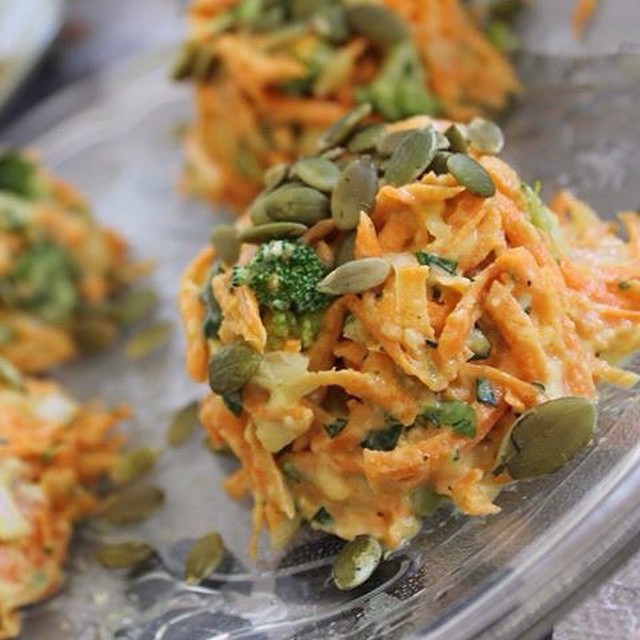 Salad Dressings

Red Bell Pepper
Tomato Vinaigrette
Green Goddess
Vegan Caesar

Marinated Kale Salad and best marinating techniques
Curried Carrot Salad and Waldorf Salad with Almond Mayo
Asian Flavored Seaweed Salad
STUDENT REVIEW - Asian Seaweed Salad -"YUM YUM YUM! I absolutely LOVE the flavour in this salad! I made it with wakame and it was so delicious! I used black sesame seeds and I really like the colour it brought to it, it allowed all the other colours to pop. I used sesame oil and cayenne powder. I really did not enjoy preparing the wakame though, the texture through me off. I like seaweed chopped up, but not in long strips of yuckiness! Next time I will probably just add flaked seaweed to the salad, and kelp noodles instead, I love kelp noodles. I love how all of your recipes give options, it is great for picky people like myself!"

BREAKFASTS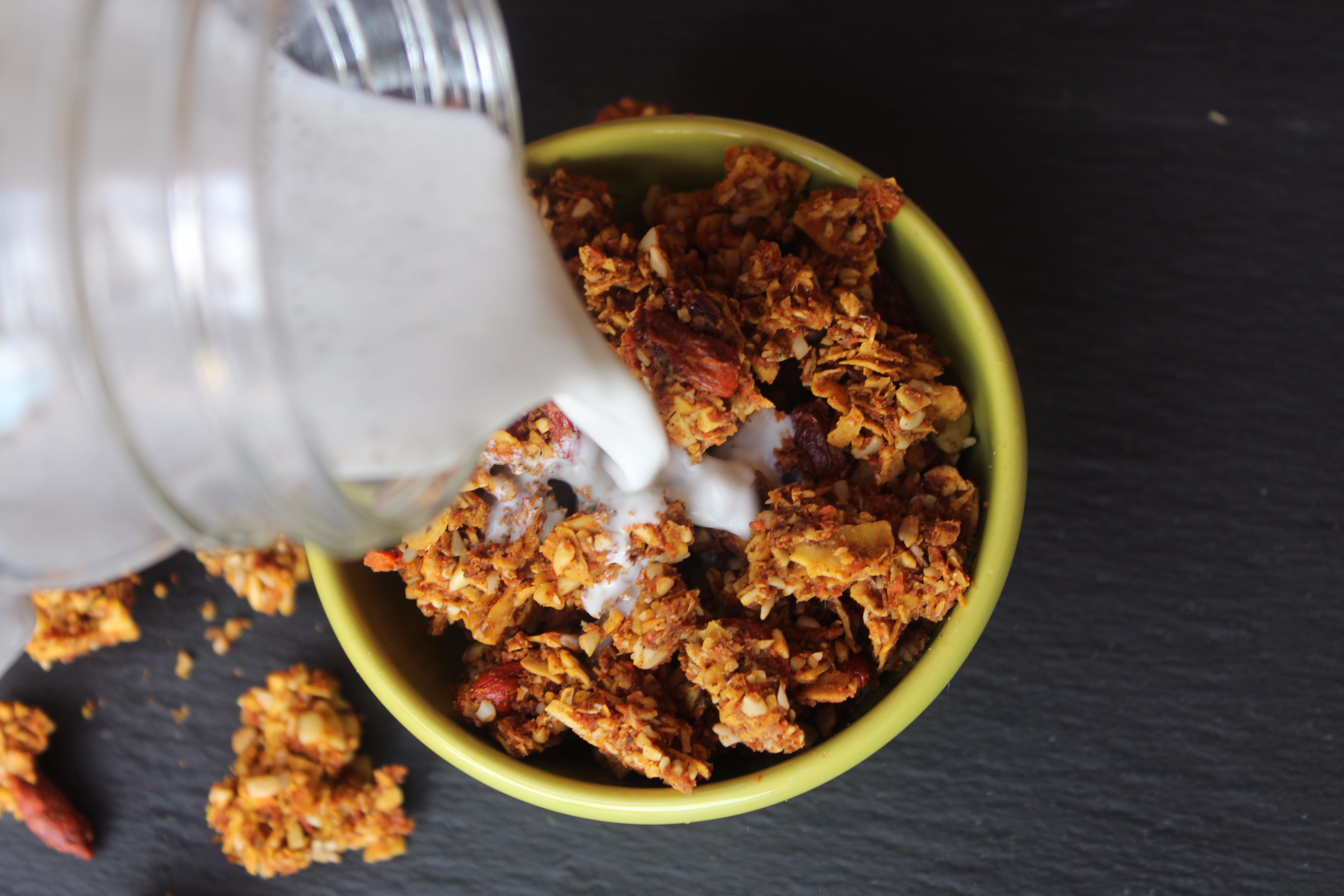 Fresh Apple Granola
Buckwheat Crunch Cereal or topping
Breakfast or Dessert Parfaits
STUDENT REVIEW - Fresh Apple Granola - "I am one of those people that loves granola! I was stuck in the old thinking about oats and other food and that I had to make it my oven. So you could imagine my satisfaction when I saw that we could still eat granola! I had never used nutmeg in my granola before so this was a new taste for me. I love goji berries too and, like you, I am not a fan of raisins so it was good that that wasn´t in the recipe. I made it with dates and it tasted like heaven fresh! Now I have put it in my dehydrator and it will be even more exciting to see the result of that."
CONDIMENTS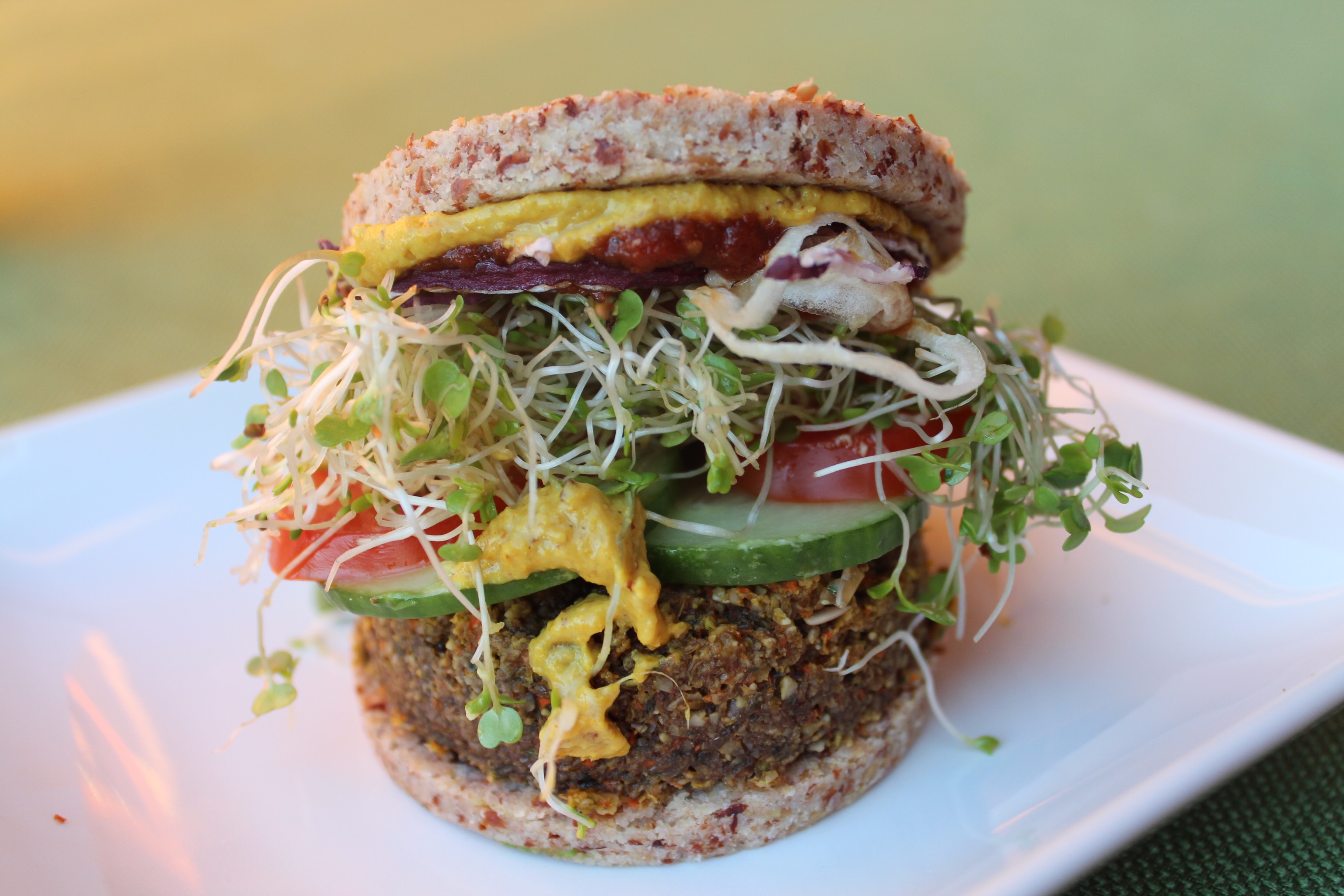 Spicy Fresh Mustard
Macadamia Mayo
Ketchup and BBQ Sauce
BREAD, BURGERS AND CRACKERS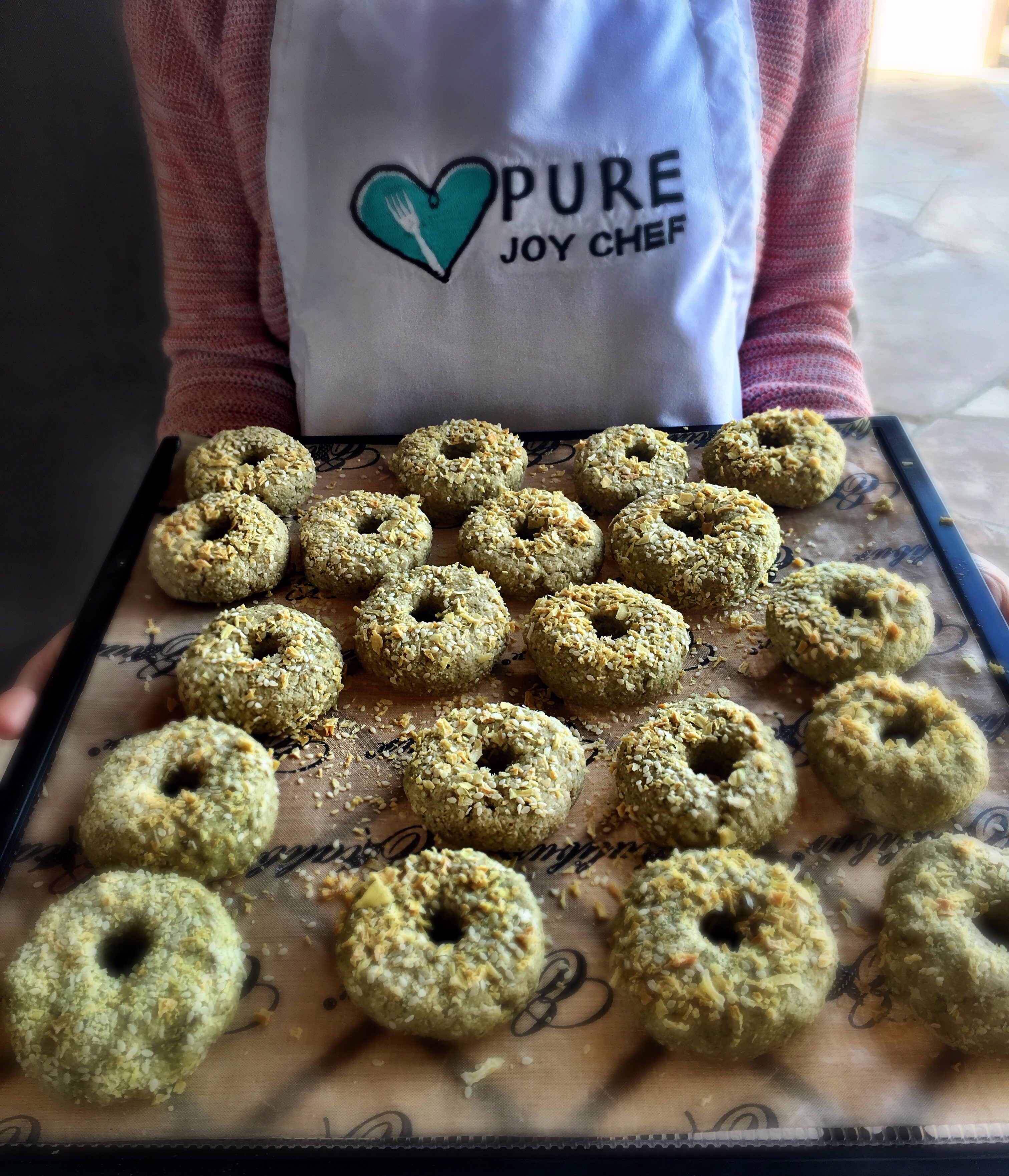 Veggie Burgers
Sprouted Buckwheat Bagels
Gluten-Free Almond Flat Bread
Super Seed Crackers (Sprouted)
STUDENT REVIEW - Veggie Burgers - "I served them on romaine salad blades with the mayonnaise, BBQ sauce, fresh mustard, some parsley and a little chili. They were so good! I am going to try them with macadamia nuts next time and see if they get like a little bit "cheezier" taste. I served the Veggie Burgers in romaine salad. I also made the BBQ dressing and put it on top. Then I took some fresh mustard (I did myself) and of course the mayonnaise that you recommended. It was so good!"
PASTAS AND TOPPINGS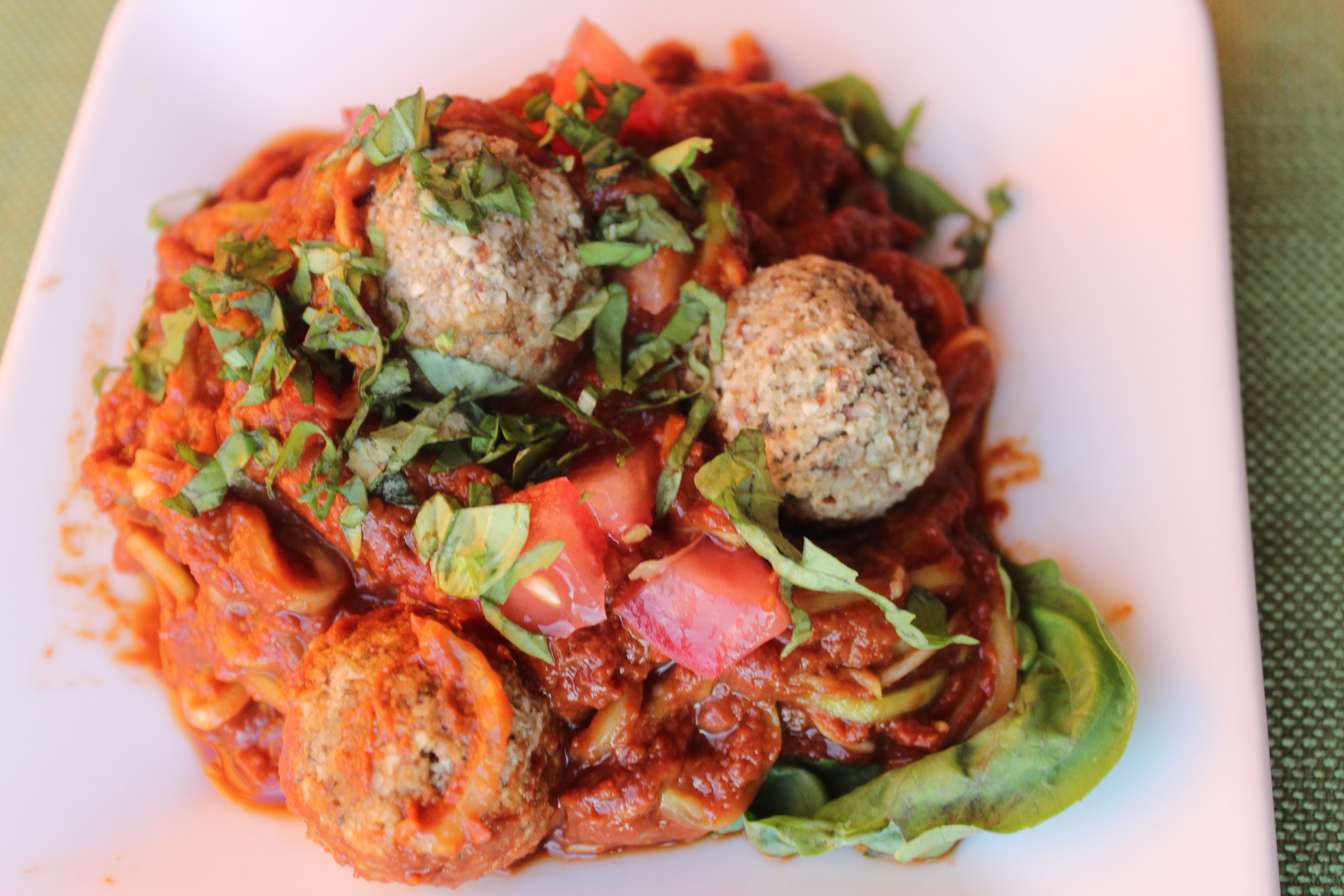 Zucchini Pasta Noodles
Pesto Sauce
Alfredo Sauce
Mac N Cheeze Sauce
Neat Balls with Savory Herbs and Spices
Assembly Plate of Pastas with Neatballs and Sauces
STUDENT REVIEW - Neat Balls - "Simply the best!!! My family loved the burgers, but these "neat balls" were truly amazing. My son just popped them into his mouth, nothing added and savored the taste. We also served them over pesto pasta. Very delicious. I made more of them later on and we added them to the soups, salads. No need for sauces or condiments (they were very tasty on their own), but we tried it with barbecue sauce and wow, loved it. Served them over lettuce leaves with sides: sauerkraut, pickles and spring onion quarters." Mekto, Sweden
DESSERTS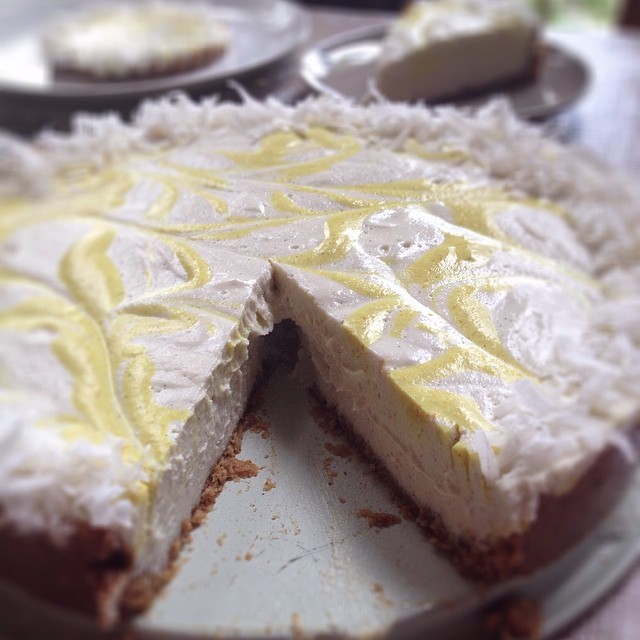 Basic Cheesecake
Bavarian Crème Custard
Decadent Chocolate Pudding
Parfaits
Chocolate Clusters
Spirulina Fudge
STUDENT REVIEW - Decadent Chocolate Pudding - "The texture! I have made chocolate avocado pudding a few times before and it is always creamy and delicious. Having said that, this recipe was the absolute most beautiful texture! It was extra creamy and silky smooth. I used this as dessert for company and topped it with sliced almonds and banana spears, they LOVED it! I wish I took a picture of how I presented it. I assume the irish moss paste and coconut oil worked wonders on the texture of this deliciousness. To sweeten it I used some dates and maple butter. It worked out perfect. Next time I will definitely try this in the parfait!"
---
Level 1 Raw Chef Certification Course Includes
A complete recipe manual. Downloadable and printable PDF's to read and practice over and over again
Comprehensive instructional videos. Thorough demonstrations to help you understand each step in the preparation and presentation.
Your Guide to Kitchen Tools and Equipment
Professional Recipes for Cafes and Restaurants
Low-Glycemic Gluten/Grain-Free, Decadent Gourmet Desserts
Nutritional information and guidance on how to live a healthier low sugar life
Gluten-Free Bread, Crackers & Granolas
Tips and techniques for plating and catering like a pro
Precise and Polished Recipe Demonstrations
Useful Recipes and Ideas for a Commercial Food Business
Ask questions. Your personalized online student learning portal is a place where you can comment and get your questions answered.
Choose to get your Pure Joy Professional Certification and receive these bonuses:

Our experienced faculty. Online support via email, Monday – Friday 9am - 5pm MST, USA.
Access 24/7 to Pure Joy Planet's Online Community. Be invited to our private student Facebook group to connect, get advice, and network with instructors, alumni and current students.
Receive Your Beautiful Certificate saying that (your name) is Certified as a Level 1 Raw Food Chef by Pure Joy Culinary Academy (signed by Elaina Love)
Exclusive invitation to Pure Joy Academy's Alumni Retreats and Business Mastermind Events.
---
Delicious, nourishing, gluten-free, low-glycemic. Learn to be a Holistic Raw Food Chef. This Whole Body, Mind and Spirit Nutrition is perfect for individuals, families, cafes and catering businesses. Teach your clients the best and most integrative diet.
Optimized Nutrition for Gut & Brain Health.
Tools for Optimal Living.
Recipes you can eat on a daily basis (foundational foods)
---
What Our Graduates Say
"Pure Joy Academy took my passion for food and healthy eating to the next level! From the daily lectures on conscious communication and thinking, to the demos and hands-on portion where you can literally taste the love energy that goes into preparing food…this invaluable experience has confirmed that I am a chef at heart who is here to help heal the world, one plant-based meal at a time! During my travels following the course, I have learned to eat more simply utilizing what is available, and my brain is constantly thinking, "how can I make this dish more raw or alive?!" - Monique Bogni, NYC
"I am really enjoying the recipes...what a difference in am noticing in energy levels too!! I am hoping to start up a juice/smoothie bar in my community and add raw food to the menu....and am being certified as a raw food chef so also hope to give workshops on healthy living, incorporating all this great information and new skills......so exciting. Thank you." - Liz, USA
---
Overview and Extras

Work at Your Own Pace or With a Pure Joy Academy Instructor
As part of the Certification process the Pure Joy Team provides guidance and feedback as you learn. The Professional Certification Program allows you to work on your own or have access to live chat anytime Monday to Friday 9-5pm MST.
Learning How to Shop
What are the best ingredients and where to shop for them? Learn how to outfit your kitchen like a pro with the top-rated culinary tools and ingredients. You will gain access to our favorite brands and ingredients so you can feel confident you will get the best out of your recipes.
Join our Pure Joy Family!
Once you complete your Professional Certification, Pure Joy Academy offers job opportunities working with our alumni, in our production facility or as an independent instructor teaching classes in your own home town. Let's spread the health and pure joy message together!

As a Certified Pure Joy Chef, you will be part of our Pure Joy Alumni database. This exclusive group provides an amazing opportunity to network and connect with others in this exciting culinary field. We have graduates from around the world who actively ask questions and post job opportunities. Elaina Love and the Pure Joy Academy Team are available daily to answer questions at anytime.
As a graduate, you will also be invited to our exclusive Pure Joy Alumni Summer Retreats!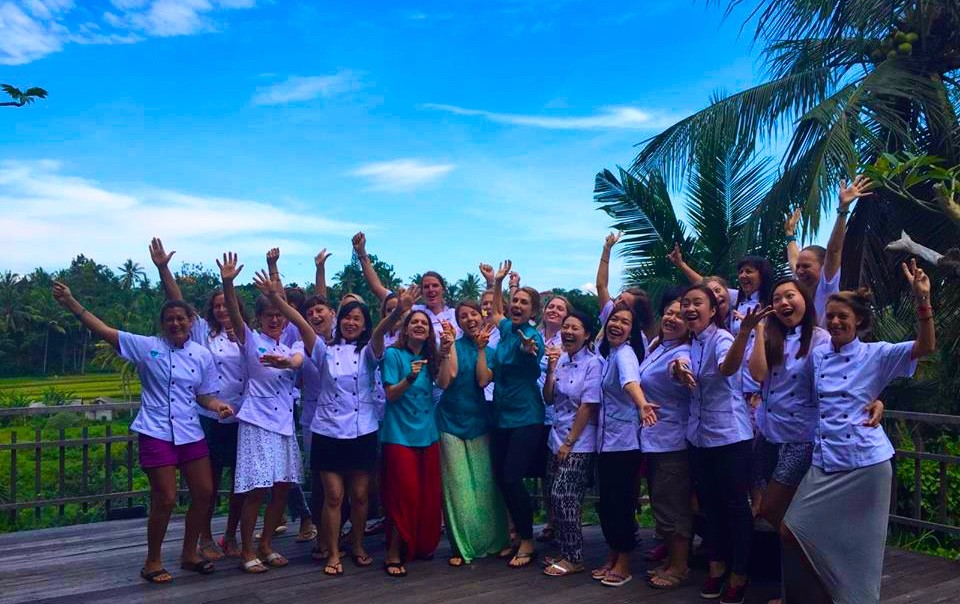 ---
What equipment will I need for this course?
A high-powered blender (Vitamix or something similar)
A food processor (one that comes with a slicer/shredder blade is recommended)
A dehydrator is nice but not required (it's okay to bake your dehydrator recipes at 250F)
A Large wooden (bamboo) cutting board
A juicer (nice but not required. A blender will work)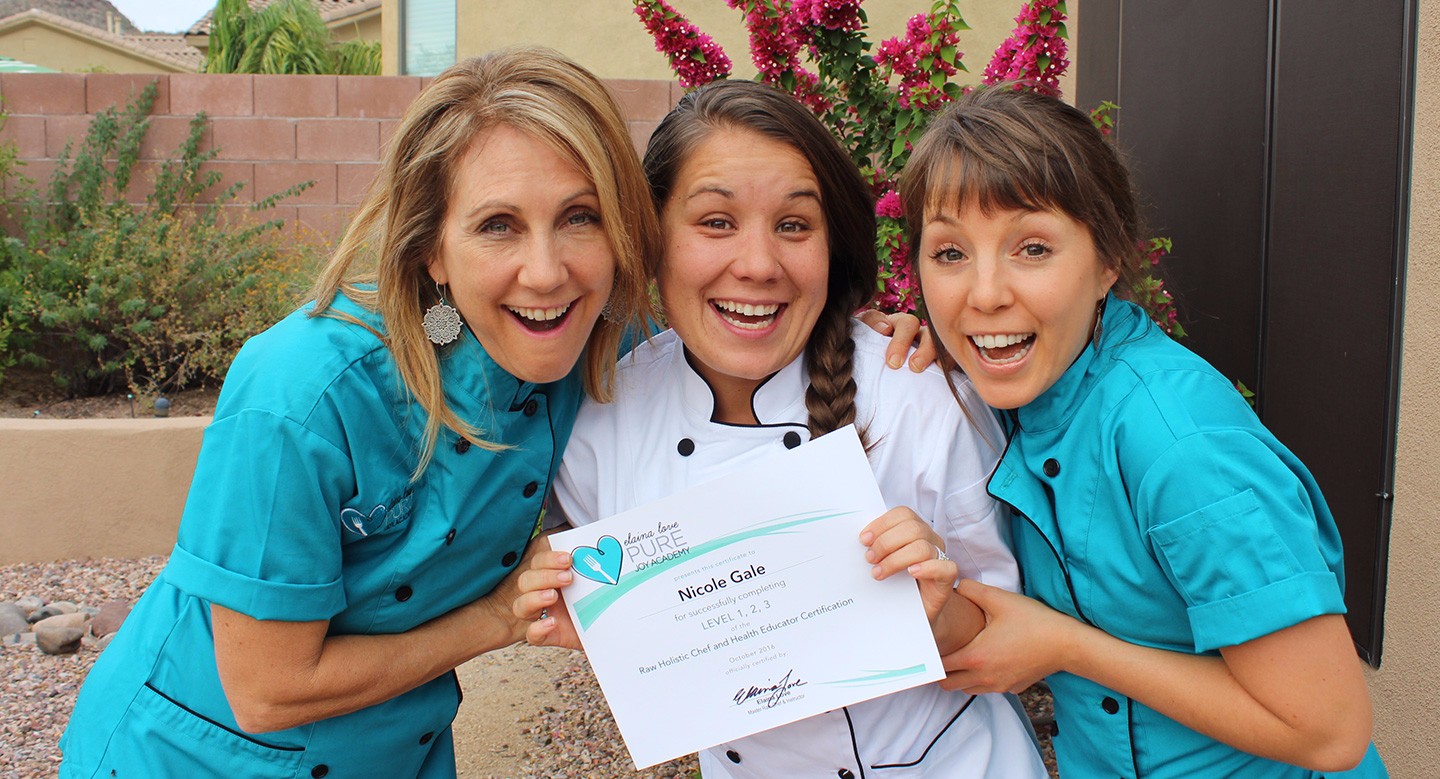 ---
Tuition
OPTION 1 - $795 USD Level 1 Raw Food Chef Professional Certification
This means you will gain your Level 1 Raw Food Chef PROFESSIONAL CERTIFICATION. To become certified, Elaina Love will personally "check your work". Only by completing the following process, you can apply to become professionally certified.
1. You will be required to complete all lessons, practices, and quizzes; and successfully complete the Final Exam.
2. You will take photos of each recipe and write 1-2 sentences about your experience of each recipe (how it went, how many times you made it, did you like it, etc.). Submit this as a PDF (in one document once your project/training is complete).
3. Chef Elaina Love personally reviews each of your recipe images and your report to make sure you have completed each video lesson.
4. Once Elaina has finished reviewing your submission, she will contact you via email for your final assessment.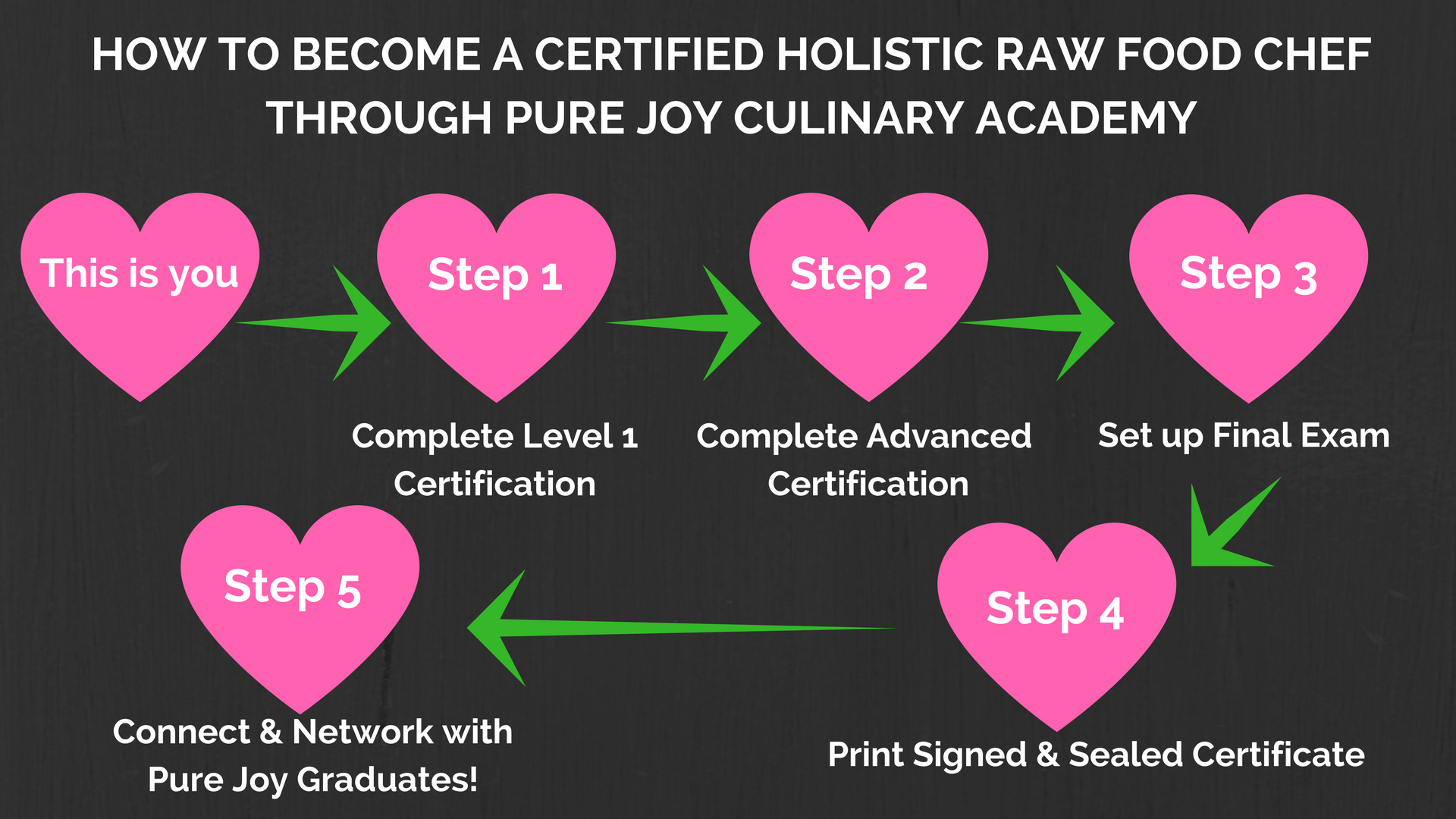 ---
Benefits of getting CERTIFIED
You can advance on to Pure Joy Academy's Level 2 Advanced Raw Chef Certification and obtain your Advanced Professional Certification.
You will have the skills and practice to create the career of your dreams in the plant-based holistic wellness industry.
You will have one-on-one guidance from Elaina Love and the Pure Joy Academy team and Alumni through our Pure Joy Graduates Community and private networking/support group.

---
OPTION 2 - RECOMMENDED $1,530 USD 10% bundled discount
Level 1 Chef Coursework, Certification and Level 2 Advanced Raw Chef Certification bundle. (Includes certification in both courses)
---
Receive your name on a printable PDF Professional Certification signed by Elaina Love.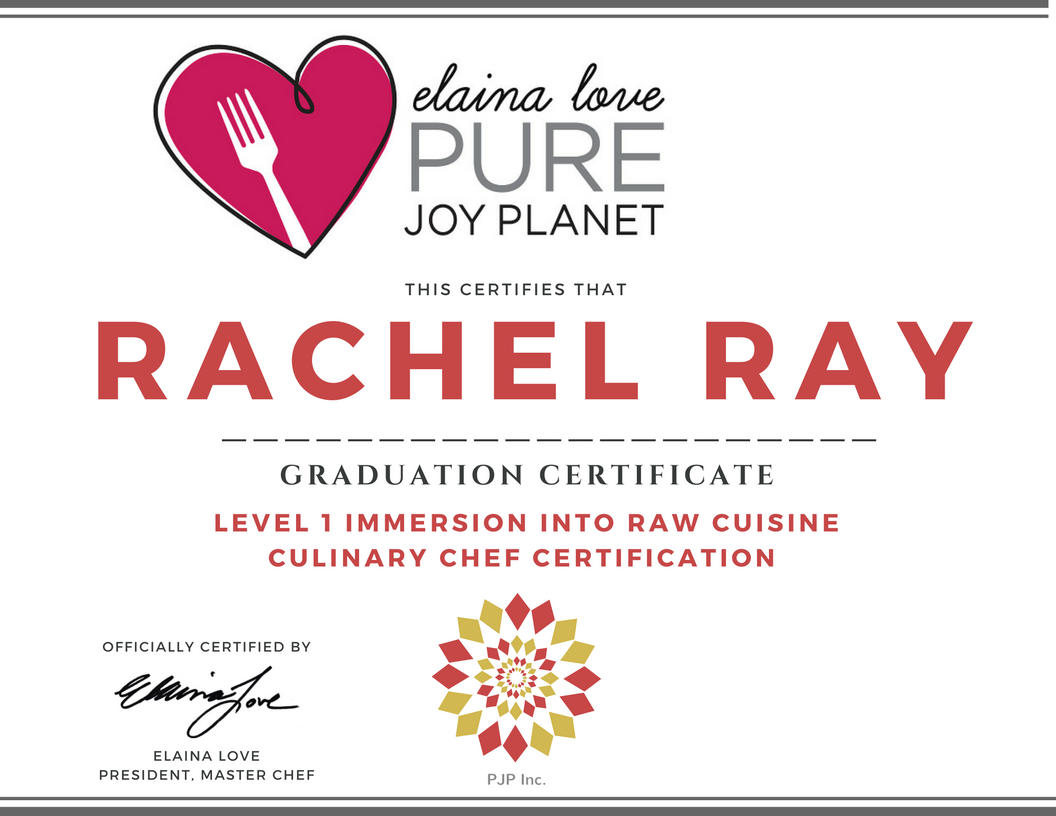 ---
WHAT ELSE OUR GRADUATES ARE SAYING
"I absolutely LOVE this course, how it is set up so we can work at our own pace. Your videos are informational and the course package that comes with it has good information included. I made the lasagna a couple of days ago and it's amazing as is the bell pepper dressing! I even shared it with my colleagues at a catering company I work for and they (big meat eaters) thought it was fantastic!!" - Liz Perras
---
"I am absolutely loving my Raw Chef Training! Each time I watch one of the online videos, I feel motivated and inspired to get in the kitchen and "cook"! Elaina has a beautiful way of expressing her vast knowledge about raw foods and nutrition in a way that feels inviting and supportive. Because of her genuine approach, I feel as though I know her even though we have yet to meet in person. One of my favorite recipes is the Rice Paper Spring Rolls with the Sunflower Pate! Wow! What a healthy, happy treat to bring to a party! And, the variations are endless. I really love it with the crunch of the daikon. I also really love the Chocolate Clusters. I try to keep them hand at all times.... they easily fill the need for the perfect sweet treat followed with a cup of herbal tea. Yummy! I love that Elaina encourages her students to have fun and play with the recipes. I found that sometimes I felt compelled to add more of 'this' and less of 'that' and each time my dish has turned out delightfully yummy! I have been a vegan for many years and I have wanted to learn how to include more raw foods into my life, yet I have felt afraid of failing until now. This course has sparked an inner belief in myself that had been asleep. Elaina's loving kindness is contagious and she delivers the recipes and nutritional information in a way that makes me want to keep making new recipes every day. This course has been such a gift for me! I highly recommend it to anyone who is looking to improve their lifestyle one recipe at a time! I am so grateful for the opportunity to share vegan treats with people and to watch them awaken to the wonderful world of plant-based eating! Thank you so much!" - Jennifer Vitalo
---
If you have any tuition or course questions please contact Katelyn Louise directly at katelyn@purejoyplanet.com