Easy Ways to Start and Keep Fasting, Celery Juice, Health Tips for Women, Detox, Keto Q&A with Elaina and Katelyn
On today's episode, we drop you into one of Pure Joy Planet's 30-Day Plant Keto Lovecamp weekly video coaching sessions. This is Week 2 of one of our 30-day programs. In this coaching session, we discuss our intuitive approach to intermittent fasting and how to ramp up over time to a longer fast. We answer questions like: When should you do a fast and how long do we recommend?
---
What We Covered In Our Week 2 Group Coaching Session:
The fastest way to get into ketosis and fat burning mode.
What it's like your first week of being on a plant-based ketogenic diet. How to navigate the beginning stages such as low energy or not wanting to exercise in the beginning.
Should you fast if you have Hashimoto's or Thyroid issues?
How to deal with keto flu, detox symptoms from eliminating sugar and how to revitalize yourself without stimulants. Salt baths, sweat, naps, water and more.
Sweat- Why it's good for us in general and especially as a way to get rid of internal toxins.
Liquids - What do we love, and what will hydrate you on a cellular level.
Listener questions- How do you use the cronmeter app for a ketogenic diet- Elaina explains how the app works. How should sugar alcohols be tracked for a ketogenic diet and what sugar alcohols we recommend? What does Monk fruit mean and what else does it contain. What is the best way to take an Epsom salt detox bath? How does the keto work for people who do not have a gallbladder? What are the best enzymes to take and how many to take? What about bitters? Coconut products and how they affect the liver. Should the ketogenic diet be done cyclically? We discuss Dr. Mercola's Fat For Fuel book. Will having a beer take you out of ketosis? When is a good time to Carb up (have extra carbs)? How to nourish yourself when you are menstruating. How to make coconut milk out of coconut manna/butter
Taking the guilt out of eating
Is it normal to get anxiety when changing your diet?
Is it better to have caffeine with or without fat?
What makes this program especially unique though is the kind and exceptionally supportive lovecamp tribe that exists within this program. Personal accountability is what helps create permanent change. It's definitely the thing I like most about my program and it's why I get so many repeat participants.
Our next 30-day Program starts July 1st. We really hope you'll come to join us.
P.S. Please don't hesitate to send me an email if you have any questions about the program. I'll do my best to get back to you right away. FULL DETAILS HERE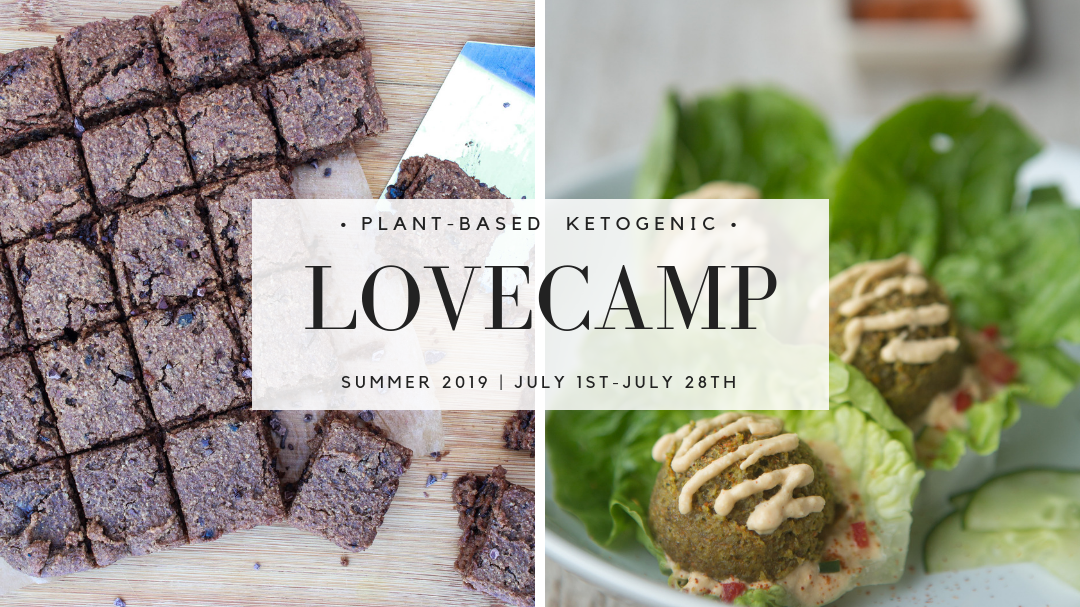 Click HERE to learn more about our Summer Plant-Keto Lovecamp Program <---- Join the group
---
ELAINA'S INFO:
Facebook: https://www.facebook.com/elainalove
Instagram https://www.instagram.com/rawchefelainalove/
KATELYN'S INFO
Instagram: https://www.instagram.com/klcuisine/
Our Website: http://purejoyplanet.com/
If you like this episode and want to hear more, please head to itunes, subscribe, rate, and review this podcast. If you'd like us to explore more on any of the topics above, right to us! We'd love to hear from you. Subscribe here: http://bit.ly/purejoypodcast
---
RESOURCES

Web - https://purejoyplanet.com/

Pure Joy Podcast Podcast - http://bit.ly/purejoypodcast

Recipes - https://purejoyplanet.com/recipes

Online Superfood & Health Store -https://store.purejoyplanet.com/
Join our anytime KETO Lovecamp -https://online.purejoyplanet.com/p/vegan-keto-diet-program-anytime
Current Lovecamp https://online.purejoyplanet.com/p/plant-based-keto-diet-program-summer
---
GET IN TOUCH

Instagram - https://www.instagram.com/rawchefelainalove/

Twitter - https://twitter.com/ElainaLove

Facebook -https://www.facebook.com/PureJoyAcademy/

Do you have questions, thoughts or feedback for us? Leave your comments below and one of us will reply! If you'd like to support the show's message, please like rate and review on iTunes or wherever you love to listen to podcasts. Subscribe here: http://bit.ly/purejoypodcast